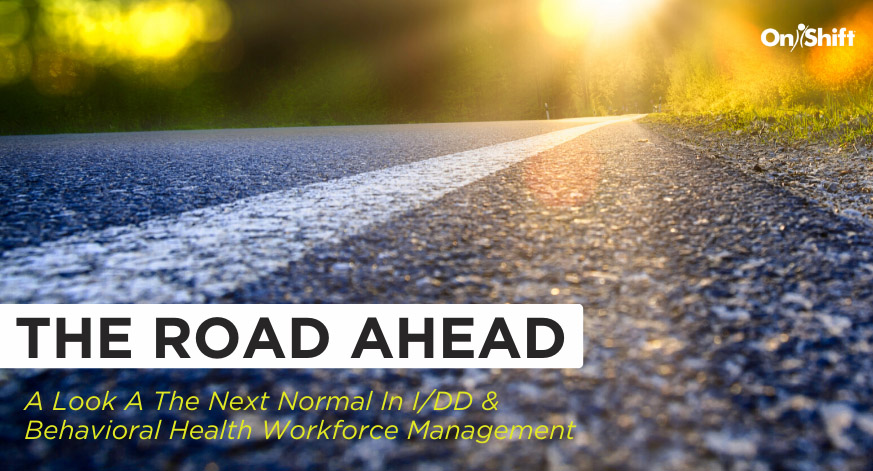 Back in Fall of 2019, we asked healthcare providers to list their top workforce challenges. Employee turnover, finding qualified candidates and employee compensation and wage pressures topped the list. Other challenges included staffing to meet client needs, hiring in a timely manner and employee engagement.
Many of us began 2020 looking to solve these issues. Then as the first cases of coronavirus were confirmed in February 2020, everything changed. And now, over three months later, the coronavirus is still a part of our daily lives. However, as states begin to reopen, restrictions start to ease and programs are slowly able to continue, we must prepare for how the events of COVID-19 will continue to impact and shape the next normal in terms of workforce management in I/DD & behavioral health.
Hiring Will Continue To Be A Challenge
Recent events have magnified the struggles and challenges many healthcare providers, particularly those in I/DD and behavioral health, were already facing. Many providers saw employees leave their positions due to childcare issues, family obligations and in some cases, fears of contracting the virus themselves.
In OnShift's customer data, we've seen a 50% increase in call-offs and a 12% increase in overtime. This has left many scrambling to fill shifts and ensure their clients continue to receive the level of service and care they deserve.
The staffing shortage has only been exacerbated by recent events. And as we approach our next normal, hiring will continue to be a challenge. However, it's important to keep in mind that the pool of talent has grown exponentially.
Prior to COVID-19, we saw historically low unemployment rates and competition for talent was at an all-time high. Today, over 36 million (and growing) people have been displaced from their jobs due to COVID-19. While some of those will be able to return to their jobs, a large portion will not, forcing many to find either temporary work, or a new career path.
According to a survey conducted the Transamerica Center for Retirement Studies in late 2019, 68% of baby boomers plan to work past age 65 or do not have plans to retire at all. This number is anticipated to rise as recent events have left many close to retirement feeling financially unstable.
These two groups are a great place to start when looking to combat the current staffing shortage many in I/DD and behavioral health are facing. And to be successful, healthcare providers must re-examine the processes and systems they currently have in place to not only reach candidates but hire them quickly.
Transparency And Communication Must Remain
Providers have often struggled with the best way to keep in touch with their staff, particularly their hourly employees. However, the events of COVID-19 magnified the need for greater transparency and more consistent communication.
Some experts anticipate that coronavirus will continue to impact our world for the next two years. And because of this, the level of transparency and frequency of communication must continue in order for staff to feel both informed and safe.
As staffing needs will continue to fluctuate, providers must have a way to quickly communicate these needs to their employees. Messaging systems, such as those found in OnShift Schedule allow schedulers and program managers to inform staff of schedule changes and open shifts via text, push notification or email with the click of a button. In turn, staff members can reply back if they are available to take that shift.
A messaging system like this can also help deliver more urgent messages around safety precautions, policy changes or new government regulations. Many of our customers have also used the messaging features in OnShift to send words of encouragement, as well as to better connect leadership with those on the front lines. One provider sent a video message to all employees outlining the organization's plans for handling COVID-19 to ensure everyone understood that they were taking the wellbeing of not only those they serve seriously, but that of their staff.
Staff Expectations Will Have Shifted
There have been so many stories coming out of the healthcare industry about the ways caregivers are working to support their patients, clients and residents during this time. But equally amazing are the stories that have come out around how healthcare organizations are supporting their staff.
Providers across I/DD, behavioral health, senior care and more are working harder than ever to address the needs and concerns of their staff. As daycares and schools closed, one provider created an in-house daycare, staffed by their own employees, so everyone who wanted to continue to work wasn't restricted due to lack of childcare. Many others have implemented staff pantries and provided pre-made meals so workers can avoid unnecessary trips to the stores. Others set up carpool programs to ease transportation concerns.
This level of support has been greatly appreciated. And as we approach our next normal, staff will expect employers to continue addressing their concerns and issues.
How can you best gauge what employees want? Simply ask them. This can be done in person during team meetings or through fast and frequent staff surveys. Many OnShift customers have used the custom surveys in OnShift Engage to keep a pulse on how staff are feeling during this time and to better understand their needs.
COVID-19 has brought a lot of uncertainties. But one truth remains—your workforce is committed to providing high quality care and service to those they serve at all cost. In order to be successful, providers must continue to adapt to whatever is coming next.
Hear how other healthcare providers are preparing for the next normal in workforce management. Join OnShift for our Executive Q&A Series where we'll answer all your questions around topics such as recruiting and hiring, the future of labor management and supporting staff.