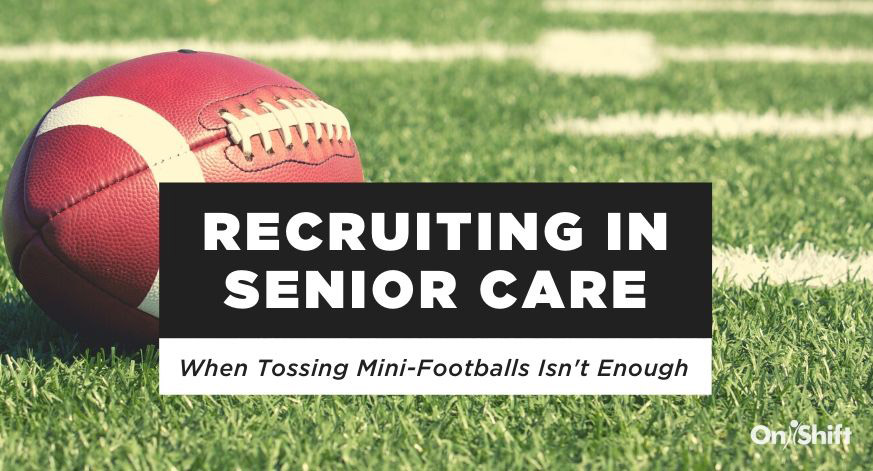 A survey recently conducted by OnShift revealed that 62% of providers cite difficulty finding qualified candidates as one of their biggest workforce challenges. And 73% of people say this challenge will remain the same or get worse over the next 3 years.
Which brings me to the title of this blog post. The critical workforce challenges facing senior care providers have recruiters thinking outside the box.
I recently heard that one provider attends local high school football games in the hopes of recruiting soon-to-be graduates. They toss mini-footballs to the crowd with their community name and phone number.
Another operator tells the story of how she wears her recruiter hat at all times – when she goes through the drive-through at McDonald's, as she's picking out produce at the grocery store. When she comes across someone friendly that seems fit for a career in senior care, she gives them her business card.
But they're not the only ones getting creative. Providers across the country are instituting in-house CNA training programs, offering competitive perks (one even auctioned off a car!) and doing all that they can to bring in (and retain) new hires.
Efforts like these are a great way to get the attention of potential new hires. But in today's competitive market, getting the attention of candidates isn't enough. You must have the right candidate experience in place if you want to secure top talent.
The proper treatment of applicants is critical. According to study by CareerBuilder, 42% of candidates who were dissatisfied with how their application was handled by an employer would never seek employment in that company again.
The good news is there are strategies that senior care recruiters can put in place today to help prioritize the candidate experience and lighten their loads. Here are a few of them.
Get Your Openings Seen
Expand your applicant pool beyond grassroots sourcing methods with more modern practices. For example, social media is an easy and free way to reach your target audience and providers that are leveraging platforms like Facebook, Snapchat and Instagram to showcase their culture and share job openings are seeing success.
Additionally, implement tools that simplify the process of posting job openings. Talent acquisition systems can automate job postings to hundreds of job boards including Indeed, Zip Recruiter and Google for Jobs. This is an easy, automated way to get your opening in front of job seekers.
Use Preferred Communication Channels
In addition to going where the candidates are, you must use their preferred communication methods. According to the Undercover Recruiter, over 90% of job seekers use their mobile devices to look for that dream job. The odds of them finding your opening on their phone or tablet and then going to a desktop computer to apply are pretty slim.
That's why organizations must ensure their applications are mobile friendly. Additionally, keep applications simple, asking only for previous employment and certifications.
And finally, text candidates to schedule an interview – don't start a game of phone tag or send an email to their spam folder. Providers that have implemented text-based recruiting report hiring twice the number of candidates in half the time.
"We have been able to take the applicant from an unknown to known and close the gap against our competitors to bring them in quickly," says Shelly Szarek-Skodny, President, Accord Care Community.
Be Transparent
From application submission, to interview, to offer – keep candidates in the loop every step of the way. Start by reaching out fast to secure top talent. Many candidates are applying multiple jobs at once, and it's often the early bird that get the worm.
Once, you've made contact, keep them updated on next steps. A candidate portal, a feature of many talent acquisition systems, allows them to view a timeline and see exactly where they are in your process. Many systems also use customizable workflows that allow recruiters to nudge candidates when it's their turn to complete a step, keeping them engaged and speeding up the hiring process.
And the candidate isn't the only one that benefits. A transparent and efficient hiring process can simplify the recruiter's job and put hours back in their day.
It's a true win-win.