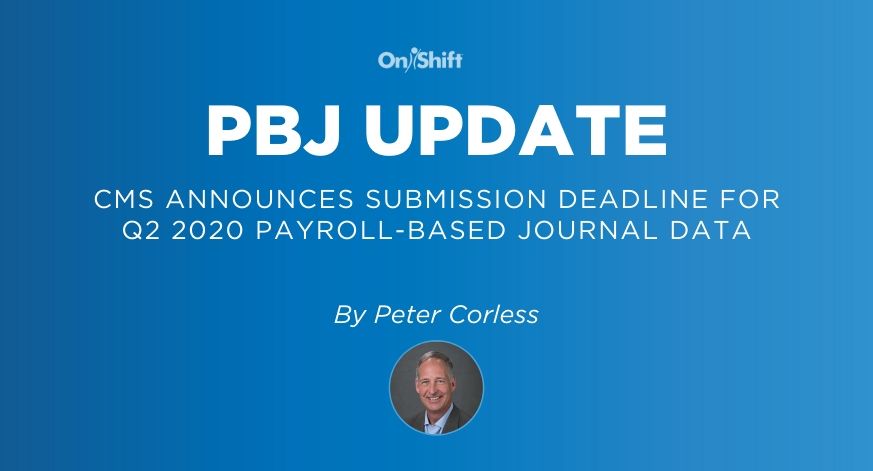 Last week, the Centers for Medicare & Medicaid Services (CMS) announced plans to end the emergency waiver and resume requirements for all nursing homes to submit staffing data through the Payroll-Based Journal (PBJ) system by August 14, 2020.
According to the memo issued by CMS, staffing data for April through June will be reflected on Nursing Home Compare around October 24, 2020.
The submission of Payroll-Based Journal staffing data had previously been waived so that providers could fully focus their attentions on COVID-19. This waiver made the submission of Q1 2020 staffing data optional. As a result, staffing measures and ratings on Nursing Home Compare will only be based on data submitted for the last quarter of 2019 (October through December). This data will be updated effective on July 29, 2020.
CMS also announced that for facilities that may have lost a star on their overall rating due to having a one-star staffing rating during the Q4 2019 reporting period will have their measures and rating temporarily suppressed and will remove the one-star staffing rating downgrade.
This change will also impact facilities that may have received an automatic one-star downgrade due to missing a submission deadline or for having four or more days in a quarter without a registered nurse. CMS believes this will allow long-term care providers an opportunity to correct and improve their rating since they will be held constant.
CMS also communicated that they are continuing to monitor events and will restart inspection ratings "as soon as possible."
The complete memorandum from The Center for Clinical Standards and Quality/Quality, Safety, and Oversight Group is available here.
OnShift's Payroll-Based Journal software helps providers ensure their submissions are accurate and on time. Backed by the support of our PBJ experts, we'll work with your organization to ensure your internal processes are properly set up to collect and classify direct care hours in accordance with PBJ reporting requirements.