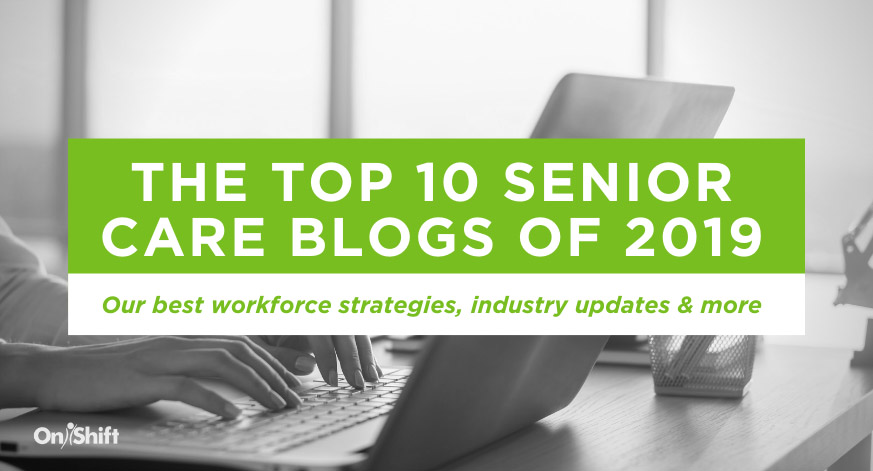 Before we begin cranking out more content to help you solve senior care workforce challenges in 2020, we wanted to take a moment to reflect on our most loved blogs of 2019. It was the year of PDPM, employee burnout and increased staffing scrutiny with regards to Payroll-Based Journal. But it wasn't all doom and gloom. There were plenty of positive stories mixed in. Our annual Scheduler of the Year awards celebrated all of the awesome feats of senior care schedulers, caregivers shared touching stories about what they're thankful for and our mobile app for employees got a facelift – and garnered rave reviews!
We hope you find our posts informative, helpful, and hopefully, a bit entertaining. If there's anything you'd like to see us write about in 2020, click here to drop us a line. And now, let's get this show on the road. Here are the top 10 Long-Term Care & Senior Living Blogs of 2019.
1. Bravo To The 2019 OnShift Schedulers Of The Year

Our annual Scheduler of the Year announcement is always a crowd pleaser. And each year, we learn of the amazing and innovative things long-term care and senior living schedulers are doing to ensure proper staffing at their community. Many of the 2019 winners went above and beyond their traditional scheduling duties and are making strides in boosting staff and resident satisfaction.
2. PBJ Update: RN Staffing Under Greater Scrutiny
To address the nursing shortage that continues to plague the U.S. – and the subsequent staffing discrepancies that resulted – CMS began penalizing providers that reported four or more days with zero RN hours in a quarter. Facilities that fail to meet the requirement now receive a one-star rating on Nursing Home Compare, the industry's consumer-facing site. The reason for such a big change? According to CMS, research shows nurse staffing has the greatest impact on the quality of care skilled nursing providers deliver. Still, this was a serious blow to providers, who rely on their rating to bring in business. Peter Corless walks you through the update and how to avoid being penalized.
3. [VIDEO] What Are Caregivers Thankful For This Year?
I'm not crying, you're crying! But, seriously, this one brought a few tears to my eyes. It was so touching to hear caregivers talk about how thankful they are for their communities, their coworkers, and, of course, the opportunity to care for and positively impact residents. I say we make 2020 all about showing this group how amazing and appreciated they are!
4. Senior Care Staff Turnover By The Numbers & Why It Matters To You
The Bureau of Labor Statistics reported a record number of open direct-care positions in May of this year; that number has been steadily climbing toward 40,000 for some time. We took a look at some of the latest stats around employee turnover in the U.S., and senior care specifically, and the ways in which high turnover is detrimental to your organization.
5. PDPM: The Top Stories & Tips For Success
Workforce aside, the other hot topic for long-term care providers in 2019 was the switch to the Patient-Driven Payment Model (PDPM). Skilled nursing industry veteran Peter Corless takes a look at the triumphs and challenges of the new model shortly after implementation and offers his tips for success in the future.
6. The Critical Impact Of Employee Burnout In Senior Care
The World Health Organization declared employee burnout an occupational phenomenon in May of 2019. And this problem is particularly prevalent in long-term care and senior living, where understaffing often leads to employees working overtime. This post covers the causes of employee burnout and a few strategies for resolving it at your community.
7. 6 Ways You May Be Deterring Your Best Job Candidates
Given the industry's low unemployment, high turnover and fierce competition for talent, the last thing providers want to do is inadvertently lose potential candidates. Are you making one of these six common hiring mistakes?
8. Honoring A Legend: Introducing The Granger Cobb Institute For Senior Living
OnShift is a proud supporter of the Granger Cobb Institute For Senior Living and was honored to help fund the naming gift in Granger's honor. Our own Lisa Fordyce attended the naming ceremony and shares the touching stories shared by his family, friends and colleagues, and the profound impact that he had on the senior living industry.
9. The Evolution (& Successes!) Of OnShift's All-In-One Mobile App
It was a huge year for the OnShift Mobile App for employees. The new all-in-one experience allowed employees to easily view their OnShift Wallet balance, reward points and next scheduled shift from one dashboard. And this update didn't just improve things for employees—it's making it easier for schedulers to fill gaps in the schedule, allowing organizations to provide consistent, quality care. Plus, transparency into their reward points balance keeps employees on track and incentivizes behaviors like clocking in and out on time, picking up open shifts and not calling off. It's been a win-win for all parties involved!
10. How The Gig Economy Benefits Senior Care
57 million Americans are gig economy participants and this number is only expected to grow. These workers – which opt for short-term contracts, freelance work or side jobs as opposed to permanent jobs – are prime candidates for jobs in long-term care and senior living. This post explains how providers can capitalize on this growing pool of workers to recruit the workers they need.
Thanks for reading and cheers to a great year, and decade, ahead!