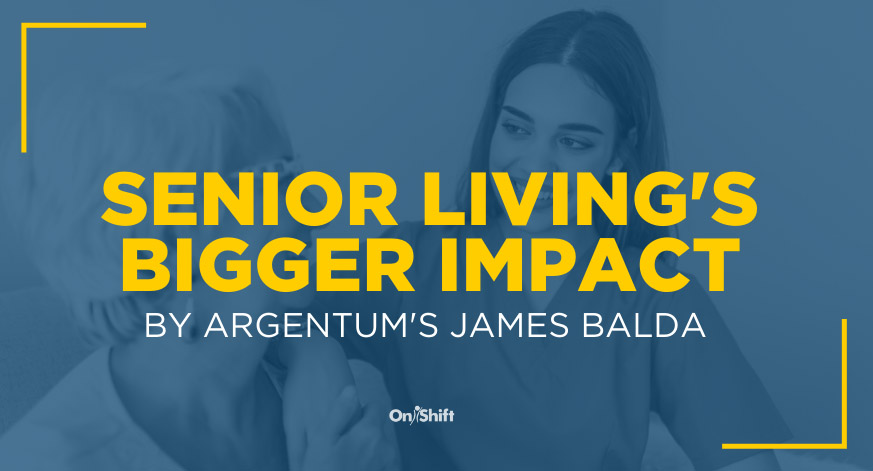 This holiday season, Argentum is celebrating in a different way. When we might have gone to laser tag or bowling, this year, at staff request, we are wrapping and distributing toys for kids.
I say this not to shout the praises of Argentum—although I am always proud of our people and their accomplishments—but rather to point to a bigger message. So often we in senior living take for granted the giving nature of our work and our communities.
Start with our mission, to serve seniors in our care with dignity, respect, and professionalism. We tend to attract altruistic, empathetic people. It's no wonder that so many of them are involved in charitable pursuits, in their private lives and within our communities.
It's become so common that we sometimes forget how involved staff and residents are in the wider community. Whether it's tutoring and mentoring youth, knitting clothes, helping organize food drives, or acting as a community center, senior living communities across the country stand tall. So many senior living providers help our employees with emergency assistance, tuition reimbursement, and other critical supports.
As is often the case, what we know about ourselves we can be reluctant to share with the public. So let this be a reminder to tell our own story now and again. We can invite the media, policymakers, and nonprofit leaders in.
It's also a good reminder that we've worked hard this year to tell the bigger story of senior living and our impact. We launched Senior Living Impact this spring, and it's gotten a lot of buzz—especially our finding that senior living accounts to almost a quarter of a trillion dollars of annual economic impact. We also reported that senior living accounts for 768,000 jobs directly, with another 916,000 jobs indirectly supported. We have a bigger impact than auto manufacturers, airlines, or hotels!
Senior Living Impact also measured social responsibility, the value of volunteerism and charitable donations resulting from senior living communities. That, too, is a big number: $1.1 billion a year. We've broken out this impact by state, and it's another feature of senior living you can include in your outreach and work with regulators and policymakers.
Of course, it's not all completely serious for us at Argentum, however. After we're done with our charitable efforts, we'll still have an always-cutthroat white elephant swap. That's a tradition too good to let go.
Happy holidays to everyone in senior living. My best to you, your families, and the broader community we all serve.