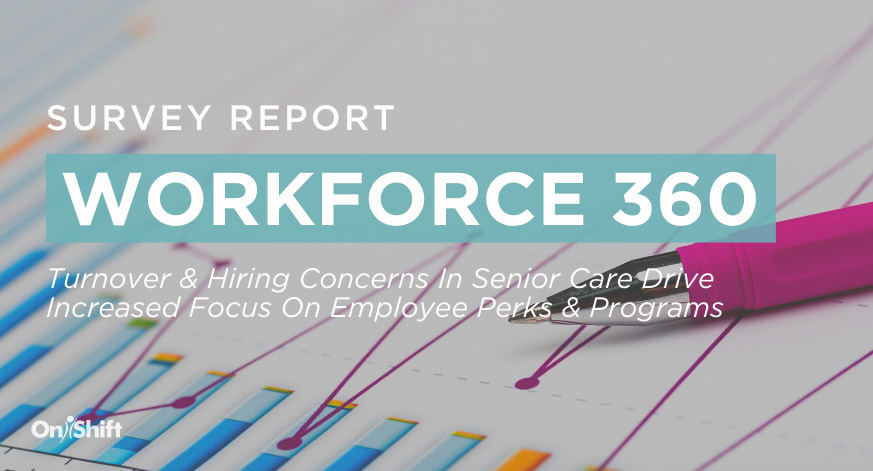 In fall 2019, in an effort to better understand the priorities and challenges facing our customers and the senior care industry as a whole, OnShift conducted our first ever Workforce 360 Survey.
We are thrilled with the results and insights we were able to obtain. Nearly 1500 senior care professionals shared their perspectives on the impact, outlook and potential solutions for combating today's top workforce challenges.
To no surprise, across all demographics, respondents report employee turnover as the top workforce challenge (72 percent) impacting their organization today. This challenge was most greatly felt by HR professionals, with 84% citing this issue as their biggest struggle.
Other key findings include:
Competition for talent outside the industry was more predominately felt by senior living organizations (70 percent) than skilled nursing providers (42 percent).
Respondents cite that employee turnover correlates to a decrease in continuity of care (68 percent) and resident satisfaction (44 percent)
The top perk senior care organizations are focused on implementing is an employee rewards and recognition program (62 percent) to help ensure their employees feel recognized and rewarded for their contributions at work.
I encourage you to download the full report to see how your organization stacks up and learn what top providers had to share regarding their outlook for the future and what they are doing today to address their most critical workforce challenges.
Thanks to all that participated in the survey! We hope you find this information valuable as you plan for the future. OnShift will be conducting this survey on a biannual basis. We look forward to seeing what providers like you have to say this coming spring.