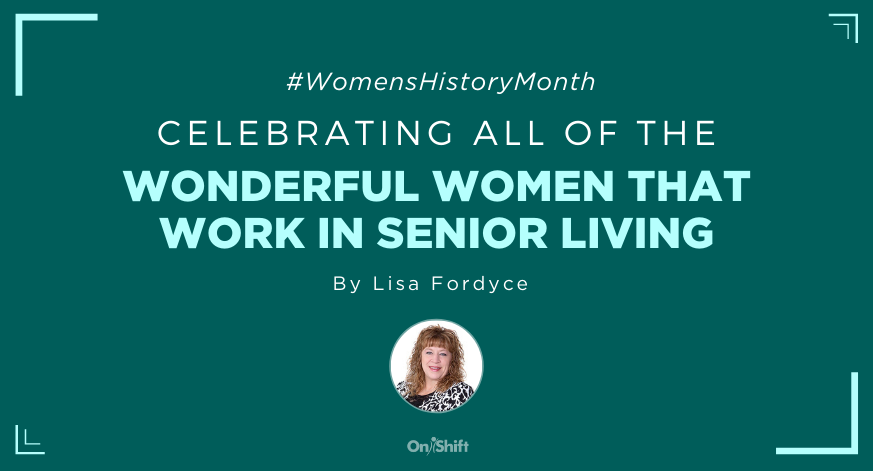 March is Women's History Month – a time to celebrate, study and honor the vital role of women in American history. I wanted to use my March column to celebrate the wonderful women in the senior living industry and those that support them.
Did you know that women hold nearly 70 percent of senior living management jobs? That's a sharp contrast to the 56% for the U.S. labor force. Or that that 9 our of 10 nursing assistants are women?
When it comes to careers in long-term care and senior living, women have most definitely taken their seat at the table. And while there is always room for improvement in our fight for equality, I wanted to highlight a few of the ways this industry supports women and their professional growth.
I am fortunate to have been given opportunities to grow in my 20+ years of working in senior living. I started out as a nursing assistant and, because of the support I received from those around me, got my nursing degree and eventually went on to hold regional, VP and SVP positions. I'm honored and feel truly blessed to work in an environment that promotes gender equality.
But things weren't always this way and the role of women in the workforce has evolved – even between mine and my mother's generations. You see, my mom and many of my friends' moms did not work in a professional setting, and stayed home to care for the kids. It was common to regularly see these moms at sporting events, school events and the like. I know my mom worked very hard taking care of her family, her parents and grandparents. She loved her role and often speaks fondly of those memories.
While I respect, applaud and appreciate all of the stay-at-home moms out there (this is hard work!), I knew from an early age that this was not my preferred path. I wanted to both raise a family and have a successful and fulfilling career. And I did. It wasn't always easy (and I unfortunately missed a school event or two) but I found support in all kinds of places – from both my family and my colleagues – both women and men.
I applaud the initiatives in place that promote women's contributions to the senior care industry. One of those is the McKnight's Women of Distinction awards. Launched in 2018, these awards honor women who have made lasting contributions to the long-term care and senior living fields. Since its inception, nearly 75 women have been recognized for their hard work and commitment.
And these awards celebrate women with all levels of experience. The Hall of Honor category commemorates those at VP level or higher, and the Rising Stars category honors nominees under the age of 40, or top performers with fewer than 15 years of experience in the profession. This list features women with titles such as Administrators, Executive Directors and Staff Development Managers.
What's more, McKnight's has received several hundreds of nominations each year – showing that there are plenty of amazing women out there, and even more people that want to ensure the industry knows just how amazing they are!
Similarly, Argentum created their Women in Leadership program to not only celebrate the contributions made by women but to create a pathway and even more opportunity for future female leaders. Two dozen women in senior living leadership roles sit on the steering committee, shaping the mission, vision and initiatives of the program.
At OnShift, we have the pleasure of working closely with several of these incredible women. Kim Warnecke, for example, currently the Chief People Officer at Apricity Resources, has dedicated her career to developing employees throughout several HR roles. She's been instrumental in decreasing employee turnover and implementing programs and perks that improve quality of life for staff. And when she's not overseeing HR concerns for nearly 15,000 employees, she's giving back to her community and supporting causes she cares about.
Similarly, Katherine Crockett, VP of Workforce Management at SavaSeniorCare Consulting, has a true passion for people and has held several positions in HR over the years. She's committed to connecting residents and caregivers as well as developing new and innovative ways to engage staff. Katherine regularly speaks at OnShift and industry events to share her workforce expertise.
Shelly Szarek-Skodny, President at Accord Care Community, has also been a valuable resource to OnShift, providing input to help our customers see better results. She is a true thought leader, regularly speaking at industry events, and is the president of the Ohio Person-Centered Care Coalition.
These three are proof that women can do it all and we value our partnership with them and all the other outstanding ladies we get to work with. Thank you for paving the way for women and for all your contributions to this industry.
When I entered the workforce, there was a mentality that women could be successful and proud of that success, but only to a certain limit. Things have certainly changed. Now I tell my daughter and nieces that anything is possible. Anything you want to do, go do it. Shoot for the stars…and then some. The sky is the limit.
To all the women reading this, take some time this month to celebrate your hard work and the hard work of all the women around you. We've got our seat at the table. Let's never forget how we got here and keep fighting to show the world why we deserve to be here.